Tuesday, November 1st, 2016
Can't believe I am posting this the day AFTER, but here we are outside yesterday, posing in front of our traditional Ceremonial Dead Cat and Mouse, following a brisk walk around the block. It's been rainy off and on the past week, making it a bit muggy in the Bay Area, and warm enough for costumed Trick or Treaters to cruise around without any cumbersome coats. Just an umbrella would do. We heard lots of comments about our window, but only one knock at the door. CHICKENS!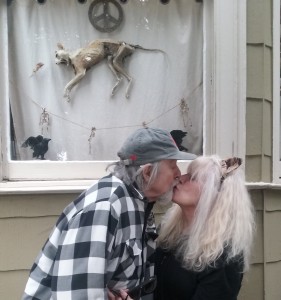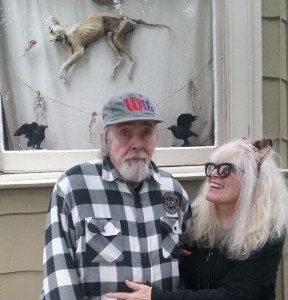 Last Saturday, our friend Jim McCrary came from Lawrence Fucking Kansas with this fabulous t-shirt. I forgot to take photos of him, so I'm posting one from his last visit, a few years ago. (The handsome devil hasn't aged a day!) love you, Jim. Here's W. In his T-shirt!