Sunday, May 8th, 2016
Well, we did make it through April, which some refer to as "The cruelest month"….and I tend to agree! We had more medical issues than usual, but managed to survive them all so far. Wilson is suffering from some repetitive mo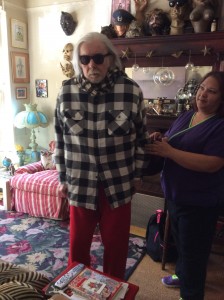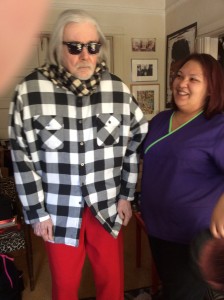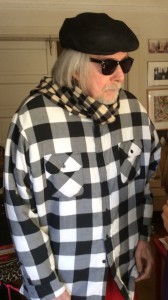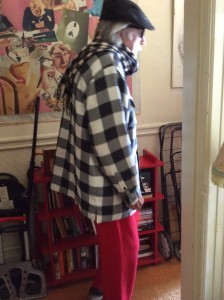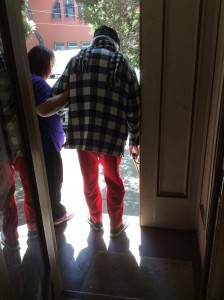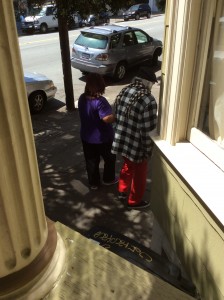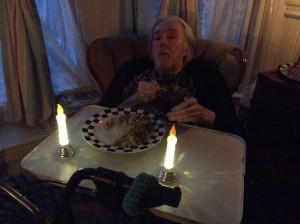 vement syndrome at last, a side effect from his dementia medication. I have been dreading this possibility for many years, hoping he wasn't going to get some bizarre mouth movement, or even start drooling. He hasn't got those. Instead, he does a rocking forward motion. It's exhausting. Like doing crunches for hours at a time. I think this is why he remains so slender! It can drive me from the room sometimes, as it gets annoying after awhile, but he doesn't do it ALL the time. He can't control it, and does a fair amount of grunting and gasping when it's got ahold of him, so I feel great sympathy for him when it's going on, because he can't just relax and enjoy a movie. Or his dinner. I remind him to try to relax, but there's nothing he can do about it until it subsides on its own after a couple of hours.
Our caregiver, Rena, has been taking him out for a walk on her own lately, since I am in more hip pain. I use a walker now, even in the house. I'm hoping to be cleared for hip surgery soon, and look forward to pain-free walking by next Fall.
We lost power in the neighborhood for over 24 hours on the weekend, when I was alone here with him. Wilson is afraid of the dark now, and started babbling incoherently and moaning until I got some candles lit, and settled down to read to him until he could doze off to sleep. The following day I put a radio in his room, and gave him a shave and manicure. Our neighbors, Doug and Heather, brought us some ice and a big cooler, so we wouldn't lose all our groceries. I talked to Wilson all day, keeping him entertained, and he really enjoyed the candlelit dinner, with two battery candles that sparkled on his tray table. I was so thrilled when the power returned! I'm just not that interested in camping any more. Especially not when I had to do all the work AND do all the entertainment. I was totally crippled the next day from hobbling around so much, finding more candles, batteries, etc. It was a lot of walking for someone who can't usually make it to the kitchen without the walker….in such searing pain.
The one thing that saved my sanity was when my old friend, Skip Ziobran came over, picked up my iPad, went home and plugged it in, then brought it back a few hours later (both trips on the bus, mind you!)so I could lie down later and at least watch a video on it. We had no wifi, but I had a couple of movies on it. I just hadn't charged it all day when the lights went out. I'll never let THAT happen again! He was so incredibly generous to do that for me. He didn't work that night at his bar the whole time, just so he could do that for me. He owns the bar called Martuni's, on Market and Valencia. Please go in that fantastically fun place sometime and have one of their giant martinis. And say thank you to Skip again for Wilson and me. I can't thank him ENOUGH for all he means to me as an old friend from Connecticut!
Ooops! I meant to put captions under the photos. The first several are Wilson going out for a walk with Rena, all bundled up like a kid. The last two were taken during the power outage, in the bedroom, trying to have a candlelit dinner.
I am sorry for doing such a crummy job posting these photos. I'm lucky they are even upright, as I had to fix that issue…..but forgot how to go back to each one to add a caption…except for the last one. I will try to fix this presentation when I have the time.
cheers to all from your humble scribe, Lorraine