Saturday, August 9th, 2014
We had fun on this sunny day, spending it in the back yard with some old pals. Ace, Rick, Eugene, Carlson, Marilyn, Sabeth, Kathi & the Johnsons joined Wilson for some food, iced tea, cake & ice cream. I put a little blonde bathing beauty on top the cake, after first painting polka dots on her bikini, and messing up her hair. I put 3 candles on it to signify 73 years, and they stayed lit til he blew them out. John Riddell also made the trip in, bringing him a hand drawn card which Wilson especially liked. Sabeth brought a binder filled with photos from the years they were together, which he poured over several times later that evening. It was a lovely day.
Thank you, Justin Green, for putting a Birthday Tribute on your blog. Anyone mentioning Justin's name when donating to Wilson's Special Needs Trust, received a print from him. It was just the incentive needed to remind people to donate.
And thanks to all the other people who needed no reminder to give so generously. It was a truly happy birthday with your generous donations. We very much needed this help, as the Trust was getting low. Again….thank you!
Wilson has been losing ground lately, and we're going to see his neurologist later this month, to see if Altzheimers is becoming an issue. We were warned about it when he was first injured. Lately, a simple task like taking off his own t-shirt has become confusing to him. He is also much more ornery the first half of the day, becoming more uncooperative than ever. It makes our morning routine much less pleasant, so I'm hoping there might be some new medication to slow the progress of this cruel disease.
Thanks for all the cards & messages. I read all of them to him, and they brought a smile to his face.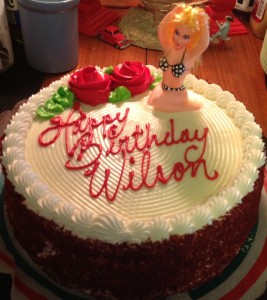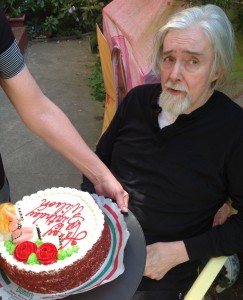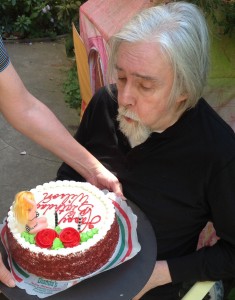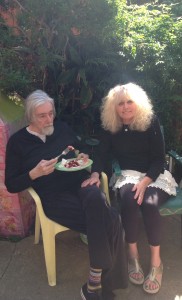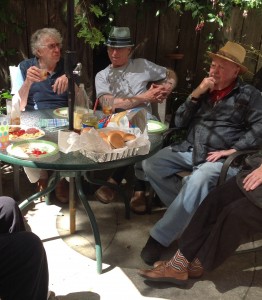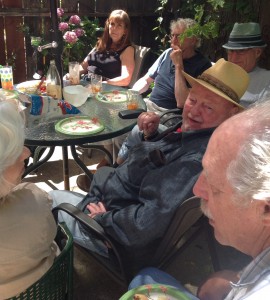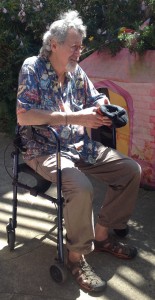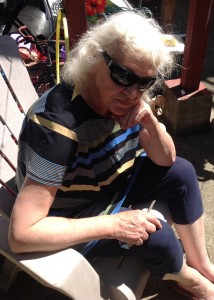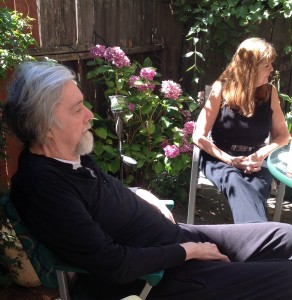 The new cd by Chrissie Hynde arrived yesterday, with a sweet note tucked in the envelope from her, reminding him to be sure to listen to the last cut called "Adding the Blue" in which she mentions S. Clay Wilson. It is great to know she still thinks of him. We went to her show, and visited her backstage in 2006. She had cried out for Wilson on Valentines Day at the Fillmore in 2000, saying "S. Clay Wilson…will you be my Valentine?" Sadly, he was not in the audience. In 2006, they talked nonstop for an hour, and he gave her his book. We visited her again, two years after his injury. It was an uncomfortable visit, as she was not used to him being unable to talk. After all, it's not like she wanted to visit with ME all that much! We left before the show when Wilson became frightened and claustrophobic in the theater. Now, it is thrilling to receive her cd, and to know she still thinks of him. Thanks so much, Chrissie, for cheering him up! I will send her a copy of Pirates in the Heartland right away. Here's a photo of them together in 2006. It's fuzzy, but the only photo I managed to get that night.